Aberdeenshire Violence Against Women Strategy Launched
22 Jan 2020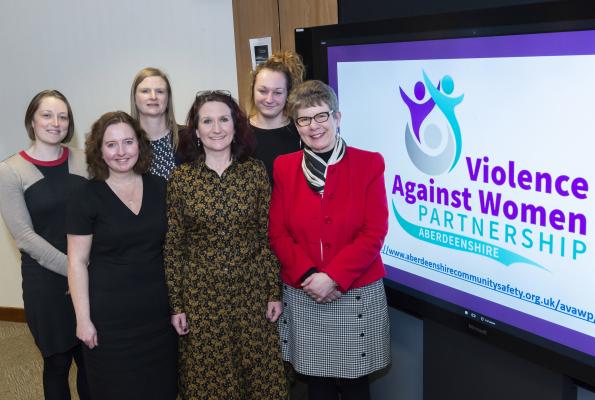 We were delighted to attend the launch earlier this week of Aberdeenshire Violence Against Women Partnership's strategy and action plan.  
The partnership, chaired by Leigh Jolly, Interim Head of Children's Services at Aberdeenshire Council brings together Aberdeenshire Council, Grampian Women's Aid, Police Scotland, Rape Crisis Grampian, Aberdeenshire Alcohol and Drugs Partnership, Aberdeenshire Health and Social Care Partnership, NHS Grampian, the Scottish Children's Reporter Administration, the Scottish Fire Service and Alcohol and Drugs Action, with the aim of improving agency responses to domestic abuse and tackling gender-based abuse at a local level.
The partners are working closely and collaboratively, at strategic and operational level, to deliver "Equally Safe", Scotland's strategy for preventing and eradicating violence against women and girls,
The strategy and action plan, the result of many months of work and research by the partners and shaped by the voices and insights of women who have experienced domestic abuse, is a major step forward in tackling gender equality and ensuring the safety and well-being of women and children.
Reflecting that of "Equally Safe", the new strategy has four key priorities:
Scottish society embraces equality and mutual respect and rejects all forms of violence against women and girls


Women and girls thrive as equal citizens: socially; culturally; economically and politically


Interventions are early and effective, preventing violence and maximising the safety and wellbeing of women, children and young people


Men desist from all forms of violence against women and girls and perpetrators of such violence receive a robust and effective response
Grampian Women's Aid Development Lead, Alison Hay, says, "Domestic abuse violates human rights because it denies women their rights, including the right not to be treated in an inhuman and degrading way and the right to respect for private and family life. Domestic abuse and associated forms of violence deny these basic rights in themselves. Partnership working is vital in tackling all forms of violence against women."
View the new strategy online HERE 
(Image L to R: Laura James, CEDAR Project, Improvement Service; Leigh Jolly, Aberdeenshire Council; DI Karen Main, Grampian Police; Alison Hay, Grampian Women's Aid; Arizona Mercedes Brodie, Rape Crisis Grampian; Cllr Alison Evison)