Annual General Meeting 2018
20 Mar 2018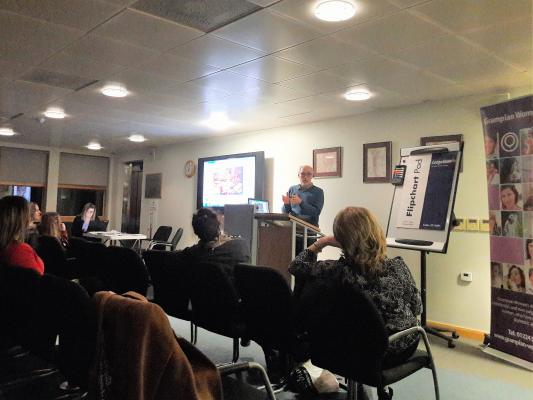 On Wednesday 14th March, we held our 2018 Annual General Meeting at Langstane Housing Association in Aberdeen.
Throughout last year, we focused mainly on the development of our new refuge accommodation in Aberdeen city and our Children and Young People's service, and the AGM was a great platform to share our achievements in these areas. Our board of trustees' chairperson also gave an update on significant improvements made with our communication channels and website, as well as further developments with service user engagement.
We were delighted to re-elect six directors and appoint one new director to the board. Our new director is highly experienced in family law and will be a fantastic addition to Grampian Women's Aid. Our board will continue to work closely together to ensure we consistently provide a high quality, specialist service to women, children and young people.
Following a general update about our goals and achievements for the year, we also surprised three members of staff by recognising a huge milestone. Two of our Support Workers and our Facilities Assistant recently celebrated an amazing 10 years at Grampian Women's Aid and were each presented with a large bouquet of flowers. This is a truly wonderful achievement and we're extremely proud of our dedicated, hard-working team.
To round off the event, we also welcomed Laurence Alfred, Executive Director of Camphill School, as our guest speaker. Laurence gave an excellent, thought-provoking presentation about his time spent at Chiswick Women's Aid in the 1970s, when the organisation opened the first ever women's refuge. Laurence played a key role in supporting children and young people within the refuge and it was extremely interesting to hear his experiences and reflect on how the Women's Aid movement has transformed over the years.
As we now begin to look to the next 12 months, our future goals are taking shape. We will be focused on continuing to improve service user engagement, further developing our Children and Young People's service, lobbying and campaigning for improved social change and increasing our training programme.
Thank you to everyone who came along and we look forward to seeing you again next year!