Covid-19: Our Commitment Remains Unchanged
23 Mar 2020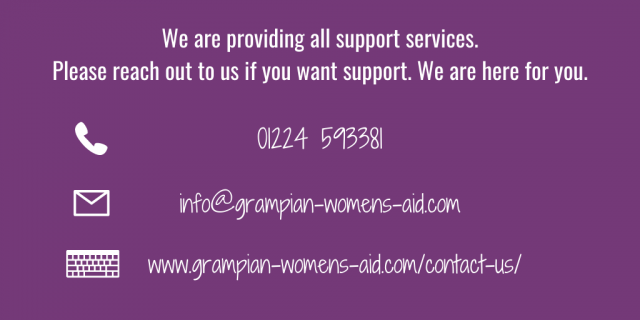 Grampian Women's Aid would like to let you know we are providing all support services during the Covid 19 pandemic.

Women seeking support during this time should still reach out to us by calling 01224 593381 or emailing info@grampian-womens-aid.com or visiting http://grampian-womens-aid.com/contact-us/ 
Our staff can still help with the same safety planning, emotional support and referrals for other services that they would do in person. Our response to the coronavirus pandemic is under constant review, and we will make decisions about the provision of our service based on information as it becomes available, taking into account the safety and well being of our staff and women, children and young people we support. Our commitment to supporting women, children and young people experiencing domestic abuse remains unchanged.

Scotland's Domestic Abuse and Forced Marriage Helpline is also available 24/7 via phone on 0800 027 1234, email helpline@sdafmh.org.uk or web chat at www.sdafmh.org.uk. Specially trained staff are available to offer support and information for anyone experiencing domestic abuse, those concerned about someone else and professionals with questions.
We recognise it can be difficult for women to get in touch with us directly at this time. If that's the case for you, perhaps consider, if you can and it's safe to do so, asking a trusted friend or relative to contact us, or the 24 hour helpline, on your behalf.
Translations: (each open in a Word document)
لقراءة هذه الرسالة باللغة العربية، الرجاء إتباع هذا الرابط  ARABIC
इस खबर को हिंदी में पढ़ने के लिए इस लिंक पर क्लिक करें  HINDI
'要阅读这条中文信息,请点击这个链接'  MANDARIN
Aby przeczytać tę wiadomość po polsku, wejdź w podany link  POLISH
Para ler essa mensagem em Portuguese, por favor clicar no link  PORTUGUESE
Pentru a citi acest mesaj în limba română, vă rugăm să accesați următorul link  ROMANIAN
Чтобы прочитать сообщение по-русски, перейдите на эту ссылку  RUSSIAN 
Para leer este mensaje en español, por favor sigue este enlace  SPANISH