GWA Conference: Understanding Coercive Control–the New Law & Impacts on Local Resources
9 Jul 2019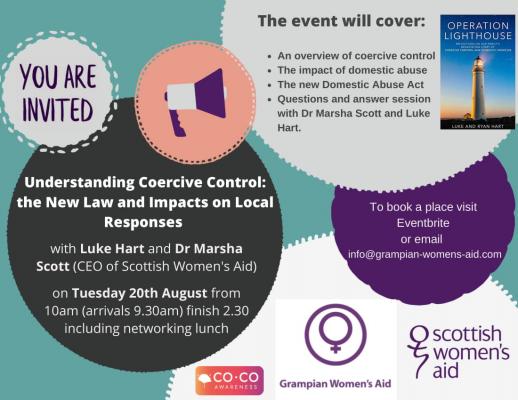 ** THIS EVENT IS NOW FULLY BOOKED - JOIN THE WAIT LIST ** In partnership with Scottish Women's Aid, we are holding a conference event on Tuesday 20th August, 2019, from 09:30 to 14:30, at Curl Aberdeen.
"Understanding  Coercive Control – The New Law and Impacts on Local Resources" focuses on coercive control, the ground breaking new Domestic Abuse (Scotland) Act and how it will impact local responses to women, children and young people affected by domestic abuse.
We are delighted to have as speakers on the day: Dr Marsha Scott, CEO, Scottish Women's Aid who, working with women's aid groups across Scotland, was instrumental in informing the new law; and Luke Hart who, with his brother, Ryan, lost the greatest part of their lives to domestic abuse and are now committed to raising awareness and speaking out against male violence towards women through their coercive control initiative, Coco Awareness. Find out more about Luke & Ryan's work here: https://www.cocoawareness.co.uk/
To find out more about this event and to join the Wait List via Eventbrite, follow this link:
https://www.eventbrite.co.uk/e/understanding-coercive-control-the-new-law-impacts-on-local-responses-tickets-64125780937
Alternatively, you can book your place by emailing info@grampian-womens-aid.com
The event will be of interest to those within Education and Children's Services, Social Work, Housing, Health, Third Sector, Community Justice, Community Safety, Academic Research and  individuals who have a particular interest in coercive control, the new law and local impacts.  
We look forward to seeing you at this interesting and informative event.