Meet the Team: Group Lead & Own My Life Facilitator
15 Aug 2022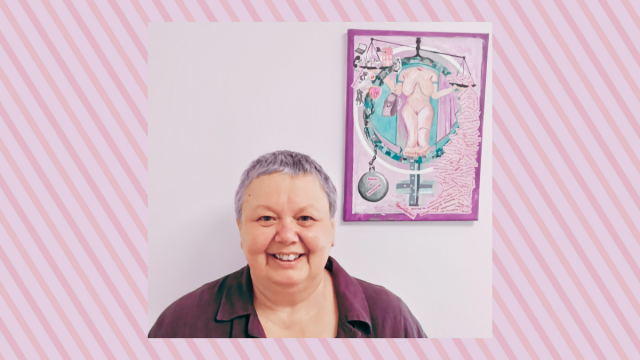 This time in "30 Minutes With....", where we meet the people who are Grampian Women's Aid, we are chatting with Sandra, our Group Lead, about her work with the Own My Life course.
---
Q: So, Sandra, tell us a bit about your work and the Own My Life programme.
My role is to develop and facilitate the Own My Life (OML) course for Grampian Women's Aid and,  alongside that, developing more informal groups and activities for women who have accessed our services to support their recovery & healing from the abuse they have experienced. We have called this our 'Connecting Women' programme and it is based on connection & sisterhood. Group work, for me, is really about bringing women together through their shared experiences.

The Own My Life course is 12-week programme for women who have experienced domestic abuse. The course is available across the UK, and we are very pleased to offer the course to women throughout Grampian as an innovative stand-alone service. This means that, not only women who we already support can join but, also, any women who has experienced domestic abuse, whether supported by us previously or not, can apply to join the course. Having a dedicated facilitator has been crucial for this to happen, and we believe that the OML course has enhanced the services we provide. We have also been able to offer taster sessions for OML to agency professionals as part of our training calendar, enabling them, as practitioners, to more confidently and effectively refer women onto the course.   

There are some exciting things happening in Own My Life and I am pleased to be part of that.  For example, I have been involved in setting up a facilitator network in Scotland which meets quarterly. It's good to hear about all the great work that's going on, and to learn from others. I attended the first OML facilitator online conference last year, which also invited women who had completed the course to a fantastic after party! I was pleased to host one of the workshops at the conference about developing facilitator networks. It's great to be part of the Own My Life family!

Q: What led to Grampian Women's Aid becoming involved in Own My Life? And, why this programme?
I joined Grampian Women's Aid in 2014 as Team leader for the new Outreach service. It became quite clear that there was a gap in services supporting women at the stage when they were moving on from their experiences. The team and I worked to identify how this might look and, when we found out about OML in 2019, we were excited! Own My Life was piloted in 2019 and I completed the facilitator training in July 2020. Doing the training really confirmed to me that this was the course for us. This is because it is an evidence-based course, focusing on women's strengths,  with women – the experts in their own experiences - at its core.  
 
Q:  Now, more than two years on, how do you feel the programme has been received and have you made any changes along the way?
We have had a great response from the women who have completed the course so far. Right from the first group, which started in December 2020, we knew from what women said to us, that it was a very good, very helpful, programme.   
Fifty women have attended OML so far, and we are delighted to have provided the course to so many women. We have just recently started our eighth group. I have learned a lot since starting out, as this was a new way of working. It was a bit like stepping into the unknown, especially as, due to Covid, we started the groups online. Getting to grips with Zoom was a bit of a learning curve to say the least!  I also learned a lot through doing the courses and getting feedback from the women. Most of the changes have been in response to their insights. Two of the main things we changed were: lengthening the session time to make sure we had plenty of time; and placing more emphasis on self-care and mindfulness.
The first face-to face-course started in August 2021, and I was able to see how the dynamics and interactions differed to the online sessions. This has helped us develop our programme of courses to include both online and in-person formats to make sure we can reach as many women as possible and provide a choice of days and times. We have 8-10 places on our online courses and 6-8 for in-person.

Q: Can you tell us how do the women attending the programme feel the course has impacted them?
The main message that comes through is that they find the course difficult  emotionally at times but that it is worth it!  Women speak about recognising their strengths and taking back ownership of their lives. They have a stronger sense of well-being, feeling better in themselves and recovering form trauma. Really importantly, the course helps them understand the causes of domestic abuse and that it happens to others.
Here are a couple of things women said about what they enjoyed most:
"Meeting women that 'get it' without me having to explain/justify it. Sharing and hearing our stories"
"I learned what an abusive relationship is, that was really helpful for me"

Q: Do you feel being involved in the programme has influenced you and, if so, would you be willing to share with us how?
Bringing women together and being on their journey with them has been inspiring for me as a practitioner. The women who come on the course are strong, brave, insightful, and so supportive of one another. It's quite hard to put into words just how empowering this process is. I have learned so much from the course and the women themselves - I am a better practitioner because of it.
 
Q: Own My Life course is only one aspect of what you do. Can you tell us a little more about the Connecting Women programme?
I have been delighted to develop a more informal programme in addition to the OML course. We are a campaigning organisation for gender equality, and women can get involved in campaigns, research, and consultations as part of Connecting Women.
Back in 2020 we put out a survey to women to get their views on what they would like to do. From that survey we developed three things:
a monthly café for women to drop in for a cuppa and chat.  The name, the Blossom Café, was chosen by the women who come along. We often have themed activities at the café such as the women's lunch celebrating International Women's Day.
A monthly online women's group and, just recently, a face-to-face women's group. These informal groups are an opportunity for women to come together in a safe space to support, heal and grow together, with some fun and laughter along the way.

Q: What plans are there for Own My Life course and Connecting Women in the future?
We hope to continue and build on the success of OML so far. We have recently engaged our first volunteer and, as a former OML attendee, I am delighted she will join me as co-facilitator for some of our future courses.
We hope to continue to develop our Connecting Women programme in response to what women tell us they need.
---
Thanks very much to Sandra for taking time out to chat with us about what it's like to be Group Lead at Grampian Women's Aid.
If you are experiencing domestic abuse, please call us on 01224 593381, email info@grampian-womens-aid.com or complete our online form for free, confidential advice.  
When our phone lines are closed, Scotland's Domestic Abuse & Forced Marriage helpline is always available on 0800 027 1234, email helpline@sdafmh.org.uk or on WebChat. 
You can find out more about the innovative Own My Life Course here