Meet the Team: The Team Leaders
21 Jun 2021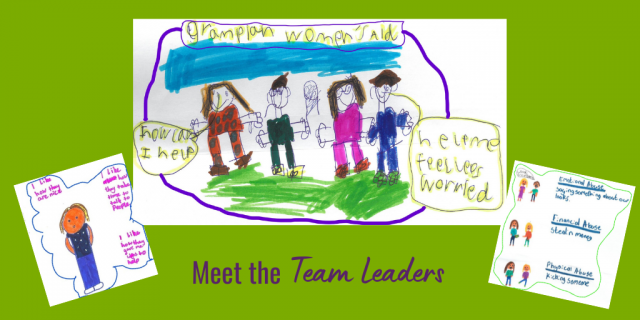 This time in "30 Minutes With....", where we meet the people who are Grampian Women's Aid, we are chatting with Gemma, our Women's Support Team Leader, and Kat, our Children & Young Person's Team Leader, about their work and what it means to them.
---
Q: So, Gemma, tell us tell us a little bit about why you decided to work in the Women's Aid environment?
It's a very special thing to be able to harness and use my strengths as a woman to support and help other women at a time when they may be feeling at their most vulnerable and alone. Women talk to us knowing what they say is confidential and that we believe them and won't judge. I think that's something we must never take for granted.  I feel privileged to be in this position, to help empower women to move on with their lives.
Q: And, Kat, in your case, what drew you to working with children & young people who are experiencing domestic abuse?
I think I can best explain this by referring to a poem. It's called "Children Learn What They Live". The poem starts "If children live with criticism, they learn to condemn" and it really spoke to me about how children's lives are shaped by what they live. It helped me realise that how I deal with a child or young person makes a real difference to how they feel. This is specially so when it comes to aspects of domestic abuse.  I was given this poem when I first started working with children and young people and I still return to it often.
Q:  Gemma, run us through what a "typical day" might look like for you.
It's a cliché, I know, but I really have no typical day. As a team, we very much react on a daily basis to what we are presented with. Every woman is an individual with a unique set of circumstances and our support plan is tailored to suit her specific needs. For example: I may be working with a woman who is preparing to leave her home to help her do so safely; or supporting a woman in refuge helping her to secure vital services, perhaps in relation to legal services, court custody hearings, or gaining access to funds. On the same day I may visit a woman who is ready to leave the service, ensuring she has the tools she needs to move on to the next stage of her journey. 
Q: Kat, tells us a little more about the ways you support children & young people and what is the working relationship between Children & Young Person's and Women's support teams?
Each young person has their own key worker. Like the women's service, the support we provide is very much down to the individual young person's needs.   Often, we give one to one support, with the young person deciding how often, where and what we discuss. There are some core topics, for example, helping them understanding domestic abuse, but we're very much led by what they want to cover.
The woman and child's experiences of domestic abuse, even though they live in the same home, can be different, so it's important for both mum and child that the child feels listened to. Often, if talking to a support worker together, the young person will hold back as they are concerned about their mum and how she feels. Once the young person knows mum has her own support worker, they feel free to be more open about their experiences.
Women's Services and our Children & Young People's Service have a close working relationship and at times will work together to help and support a family.
Q: Gemma, how has the Covid-19 pandemic impacted the work of the team and what have you, yourself, found most challenging over the last twelve months?
Just when our service was needed more than ever, we faced more barriers. Everyone pulled together amazingly well, and we adapted quickly so that we could continue to provide all our services in a different way. All the same, not being able to talk face to face with women we were supporting was incredibly difficult. Important, sometimes subtle, information can more readily get lost over the phone or on email. I'm glad to say we've now mostly returned to meeting face to face in a safe environment.
For me, personally, working from home - and other agencies working from home - was the most difficult part.  Some services had reduced availability and things seemed to take longer to arrange. On the plus side, it is reassuring to see the circumstances of living with domestic abuse recognised by the Scottish Government and their advisors and taken into consideration when it comes to restriction levels and lockdown.
Q: Kat, you see many positive outcomes in your work, but supporting children & young people experiencing domestic abuse brings many challenges. What is the most challenging aspect for you?  
How often a child or young person, when given opportunities to talk about their experiences, isn't believed. They are then left disappointed and alone, blaming themselves. That feeling doesn't go away.  In other cases, even today, when domestic abuse is disclosed, the child isn't even spoken with at all. This is something that must change.
It takes a lot of courage for a child or young person to talk about their experiences of domestic abuse.  It's frustrating that their experiences aren't believed or valued and, if they aren't spoken to at all, it can lead to them feeling that their experiences are normal and that they deserve to be treated in that way.
Q: Gemma, we know how important and influential society's response to domestic abuse is.  What changes in society's attitude do you most want to see?
We need to see a complete change in the way domestic abuse is reported in the media, how it is depicted on social media and how it is viewed in the home. We see everywhere examples of victim blaming, shaming the victim, and effectively excusing the perpetrator. The media has a huge influence on the way people think and I believe there would be a real change in attitudes if they reported domestic abuse differently – from the perspective of the victim.
We see on social media the abuse many women, especially high-profile women, and women in authority, are subjected to. Incessant, misogynistic, threatening comments. We all – women and men – must challenge that at every opportunity.  Social media is hugely influential on the next generation, and it is important how we shape their minds for the future. 
Q: Kat, on the same theme, how do you feel we at Grampian Women's Aid can further influence society's approach to domestic abuse?
I completely agree with everything Gemma has said. Media reporting of domestic abuse is shameful and dangerous. The Hart brothers, Luke and Ryan, are using their experience to influence and educate the media. Journalists, agencies, all of us, have a responsibility to listen, really listen to victims.  Young people, in particular, often aren't properly listened to. They have lived with abuse; they can tell us how it really affects them and what we really need to do to change attitudes.
At Grampian Womens Aid, in addition to our support work, we can raise awareness of the realities of domestic abuse and challenge the many misconceptions.  We can educate and inform through our training for agency professionals and individuals, our website, and social media. We can also give talks to groups, clubs, and organisations. Really importantly we can, and do, seek the views of women, children & young people who have experienced domestic abuse. What they tell us shapes the service we provide.
Q: Finally, to both of you, Gemma & Kat, in one sentence sum up what you love about your job.
Gemma: I love that, often, just one small piece of work can be life changing for a woman.
Kat: I love learning from children and young people. They challenge my thinking every single day.  If I can give an example, one child explained how she felt about domestic abuse and her father as "It's like a fly buzzing around. Always there, annoying, hovering over you. Even though you aren't in the same room or staying with him, he must know everything that is happening, so it feels like you can't escape him. It's like the fly - always there - you can hear and feel it."  This stays with me every day.
---
The full length version of the poem, "Children Learn What They Live" 
More about Luke & Ryan Hart and their work. 
---
Thanks very much to Gemma and Kat for taking time out to talk with us about their work and what it means to them to be a Team Leader at Grampian Women's Aid.  
If you are experiencing domestic abuse, please call us on 01224 593381, email info@grampian-womens-aid.com or complete our online form for free, confidential advice.  
When our phone lines are closed, Scotland's Domestic Abuse & Forced Marriage helpline is always available on 0800 027 1234, email helpline@sdafmh.org.uk or on WebChat.
---