Reflecting on SWA's Annual Members' Conference
3 Nov 2017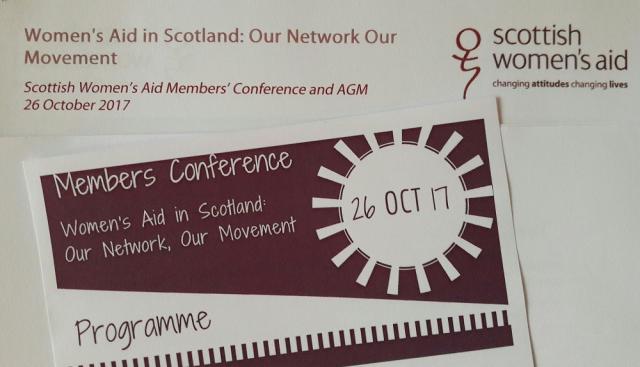 Last Thursday, we travelled down to Glasgow for Scottish Women's Aid's Annual Members' Conference and AGM. This year's theme was Women's Aid in Scotland: Our Network, Our Movement and the event kicked off with a welcome from Scottish Women's Aid Chair, Heather Williams.
The first session was 'A Day in the Life of a Support Worker' with presentations from East Ayrshire, Wigtownshire and Stirling & District Women's Aids, as well as Edinburgh Domestic Abuse Court Support (EDDACS). Each speaker gave us a fascinating insight into her role and a 'typical' day – if there is such a thing!
The next session before the AGM was some brilliant speed networking. It was a great opportunity to move around the room, getting to know women from other organisations and reminding ourselves why the Women's Aid movement is so important. We added our own tags to the Tree of Reflection – just one of many inspiring displays and exhibitions from a number of organisations. 
The AGM allowed us to reflect on the great work undertaken in the last year, including our 40th anniversary celebrations, the Speaking Out project and the Power Up/Power Down project – to name but a few. It was also an opportunity to consider how we continue evolving whilst best championing Women's Aid in Scotland.
For the afternoon sessions, we took part in workshops that looked at how we define ourselves as specialists and how we can consider activism versus pragmatism. Both of these workshops were extremely thought-provoking and saw us discussing the language and definitions we use to describe our organisations and what we do, as well as how to balance activism and service provision alongside each other. To conclude, we discussed how we continue to strengthen the Women's Aid movement together.
Overall, the conference was a fantastic opportunity to meet the other women that we work alongside, if often from afar! It was great to put more faces to names whilst inspiring each other and sharing valuable knowledge and expertise.
Thank you to Scottish Women's Aid for hosting such a fabulous event and we look forward to seeing everyone again in 2018!