Attending Grampian Pride Parade
15 Jun 2022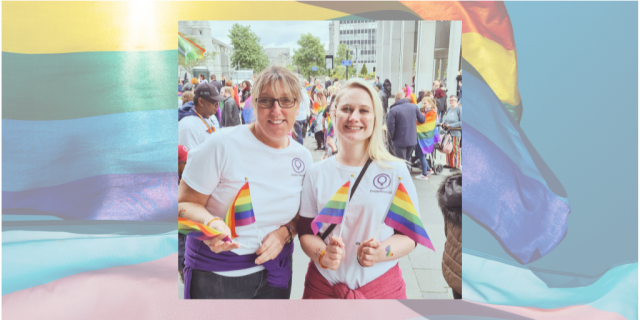 We were delighted to join this year's Grampian Pride Parade held on 28th May. For the first time in three years, Grampian Pride held the full Pride event bringing the LGBTQ community and allies together in person.
Aileen and Amy went along to represent Grampian Women's Aid at the parade and had a brilliant time!   They both felt the parade was held in such a welcoming and joyful atmosphere.  It was a special experience with so many people from all walks of life taking part. Aileen says "We had a great time, chatting and dancing our way down Union Street with thousands of others proud to be supporting Grampian Pride".
Our videos (links below) give a taste of the experience!  
Grampian Pride Parade #1    Grampian Pride Parade #2
___________________________________________________________________
Grampian Women's Aid support all women who are experiencing, or have experienced domestic abuse.
If you would like to talk, please call us on 01224 593381, email info@grampian-womens-aid.com or complete our online form HERE, for free, confidential advice.
When our phone lines are closed, Scotland's Domestic Abuse & Forced Marriage helpline is always available on 0800 027 1234, email helpline@sdafmh.org.uk or on Web Chat HERE