Meet the Team: "On the Board"
8 Jul 2020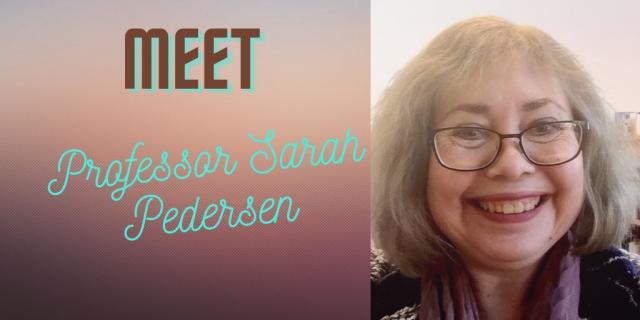 This time in "30 Minutes With....", where we meet the people who are Grampian Women's Aid, we're chatting with Professor Sarah Pedersen.  Sarah is Professor in Communications and Media at Robert Gordon's University, where she also has the special role of Gender Equalities Champion, and joined the Board of Grampian Women's Aid earlier this year. 


Q: So, Sarah, tell us a little bit about your background and what got you thinking about joining the GWA Board?
A: I have been teaching about the portrayal of women in the media for over 15 years with a particular interest and emphasis on women's equality or, more accurately, women's inequality, through history. In my book, "The Scottish Suffragettes and the Press", I investigate how the press engaged with the women's suffrage movement and how suffragettes were portrayed in newspapers. Two years ago, working with some very talented women, I was involved in the production of "Rise Up Quines!", a local festival celebrating the centenary of (some) women winning the right to vote in the UK, which also aimed to encourage contemporary women to become involved in politics and leadership. From there, I joined some women's groups and my interest in domestic abuse developed further. On a professional level, too, I've been working with RGU and the University of Strathclyde on a research project looking at gender-based violence. So, when I saw Grampian Women's Aid advertising on Twitter for a new Board member, I was interested in finding out more.


Q: How did you go about joining and what was the process?
A:  Initially I emailed Aileen, Grampian Women's Aid manager, to express my interest.  We then talked on the phone, I completed an application form and met with the Board Chairperson. I attended a Board meeting as a guest and, from there, I decided to go ahead.  References were then taken up and I attended my first formal Board meeting in February this year. I was recently voted into the role of Board Secretary and look forward to the additional responsibilities that brings. 
 
Q:  Following on from that, what skills and experience do you bring to the Board?
A: I have many years of experience of researching and understanding the role of women in society. In addition, my professional role is in communications and media skills so I can talk to women in ways that work for them. I also bring my contacts and RGU support – they are very supportive of my role on the Board – and my experience of preparing and presenting funding bids.  So, a variety of skills and experience.
 
Q: Since you've joined the Board, what have you enjoyed most about the experience?
A: I attended a Scottish Women's Aid Trustees training day soon after I joined the Board and I found that very enjoyable and informative. It was good to meet up with a group of women, only women, each with quite diverse and interesting backgrounds. Prior to Covid-19 restrictions, I had plans to visit Grampian Women's Aid refuge accommodation and the women who are living there. I very much look forward to doing that when it is safe to do so.


Q: Has anything surprised you about your experience (or about the operation of GWA)?
A: I've been very impressed by the commitment of everyone I have met at Grampian Women's Aid so far. I'm not sure I'm exactly surprised by that but, certainly, it's quite noticeable and refreshing. The Board members are each from quite different backgrounds so bring a wide range of knowledge and expertise to the organisation. I think that works very well.


Q: We know how important and influential society's response to domestic abuse is.  How would you like to see GWA further influence that response?
A: I believe the old-fashioned view of domestic abuse is shifting but it is very slow to do so. I wonder how those suffragettes would feel about the progress made over the last hundred years? Perhaps disappointed by the slow pace of change. Education of the wider community is key to driving change.  So, here at GWA, we can influence that by raising awareness at every opportunity – highlighting inequality as the origin of domestic abuse in all its forms; emphasising the different forms of domestic abuse; explaining coercive control and highlighting and breaking down those long-standing misconceptions.


Q: We hear a lot about "good governance". What do you think is most important in terms of good governance of GWA as an organisation? 
A: There are many strands which come together for good governance, of course, but good communications – and consistency of those communications – is crucial.


Q: Finally, Sarah, what would you say to encourage others to join the Board?
A: Say yes!  It's so important that women see they have something to offer.  Every person has something unique to offer. Too often, though, we don't take that step.  We are interested in the advertised Trustee role, we'd like to find out more – but we tell ourselves we couldn't possibly do it, that someone else would be better at it.  Next time, say yes.

Thanks to Sarah for taking time out of her busy schedule to chat with us about what it's like to be on the Board. If you are interested in joining the Board of Trustees here at Grampian Women's Aid, you can email us at info@grampian-womens-aid.com or call us on 01224 593381 and ask to speak with manager, Aileen Forbes.
If you'd like to find out more about Sarah's work, you can listen to her talk about her work and research interests here: https://www.youtube.com/watch?v=ME6aSU7bVn0